Aikido Autumn Seminar at Izu / Japan – Part 1
Onsen means 'hot springs; Onsen within a house are called O-Furo and external Onsen are called Rotemburo. Public hot bathes (which, of course, are not always fed from hot springs), are called Sentou.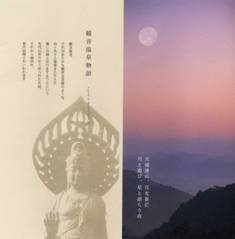 This year's autumn seminar of the Tendoryu Aikido Dojo in Tokyo, the Tendokan, was a highlight of our journey to Japan, and we had booked already definitely from Germany. In Japan the preparations for the seminar were running strongly, and all information was provided in English as well. The investment was about 180,- Euro excluding travel costs, including two overnight stays (with breakfast and dinner), usage of the Dojo and the Onsen and the seminar's fee.

The peninsula Izu is located about 150 km southeast of Tokyo. Koreyuki-san was driving, and we went along the beautiful coastal highway via Odawara and Atami to Shimoda. This highway is running directly along the coastline, which was an optical delight sitting in a car, but is less amazing for the residents and for the people using the beaches for swimming. The various tollhouses raise the driving costs considerably, and only driving in groups is economical.

In Odawara we shortly visited the Odawara castle (only from outside as there were ongoing renovation works).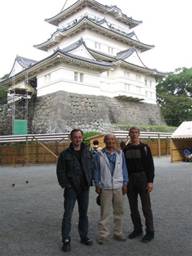 When asking three different persons regarding the remaining driving time, we were told between one to four hours. Apparently the area still is largely undeveloped …

Only after 1.5 hours we reached the port Shimoda, similarly to commodore Perry around 1850, but we arrived from landside, whereas Mr. Perry with his 'Black Ships' forced the opening of Japan after 300 year's isolation from the seaside.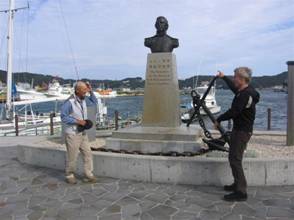 Clear water (although the relatively polluted Tokyo Bay is not far away), green hills and strong winds refreshed us, and we went towards a specialty restaurant for local food. In the restaurant we immediately come into contact with two elderly ladies of about sweet 80 years (? Japanese Ladies), who curved around by car. The ladies talked enthusiastically of common (Japan – Germany) memories and experiences from times long ago, wished a good-looking son like Christian and compare Peter with the German food ball keeper Oliver Kahn (my god!). Unfortunately we had to refuse the friendly invitation to their home … we were no match to the old ladies.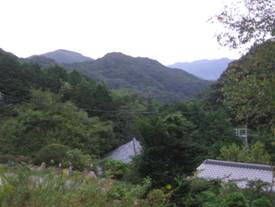 Somehow we had the feeling to be in Herzogenhorn/Black Forest in Germany – if there weren't so many Mikan trees (tangerine). Through thick forest we went about 500m upwards. The facilities are still being extended, but now there are already three building complexes, at he top the main building with luxury apartments and with the huge Dojo, in the middle the dining rooms and the main bathrooms (inside and outside Onsen), and then on a lower level the other (group) apartments and additional bathrooms (internal and external ones) In some of the luxury rooms there were small private Onsen even within the rooms.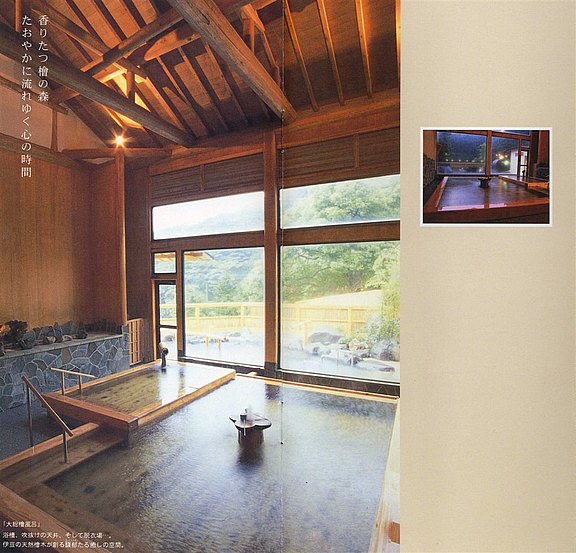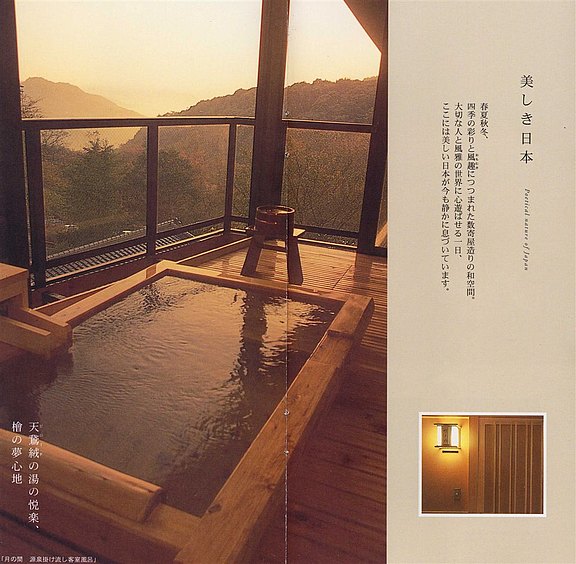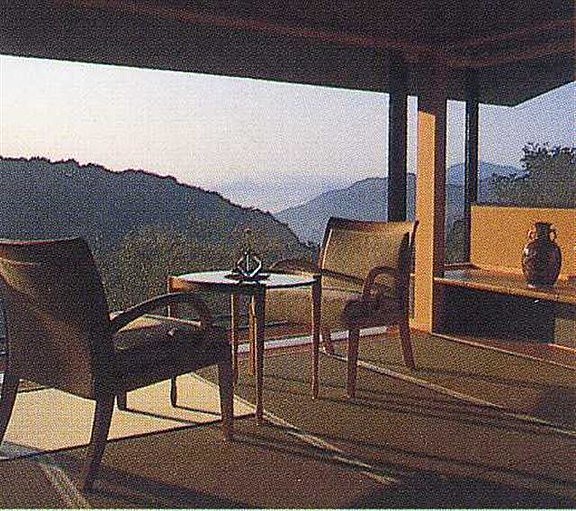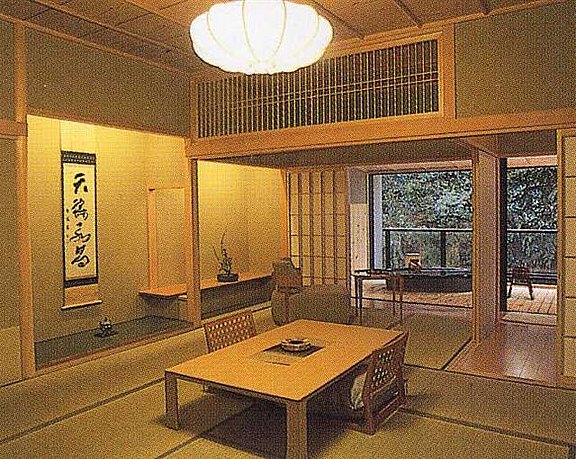 Via an endless corridor we reached our rooms.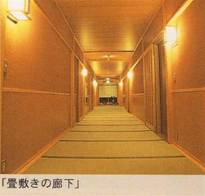 First the four of us stayed in the room, later a fifth person joined. Our accommodation consisted of two rooms, separated by paper walls, a small balcony room with table and seats, bathroom and two washbasins. Of course as in all Japanese hotels or Ryokans all over Japan (!) soap, toothbrush, hair shampoo, a Yukata (light Kimono), a warm Kimono jacket (this one is not always available) and teapot, tea and some sweets were provided for every one.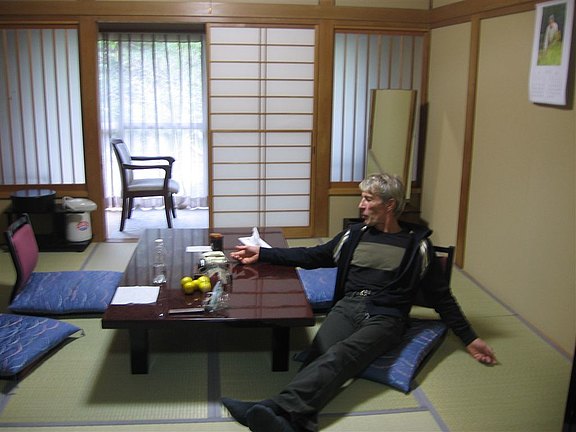 Friday
After our arrival most of us immediately jumped into one of the about 40 degree hot bathes, of course after carefully cleaning ourselves at washbasins outside the pool within the huge bath room, which ceiling was made from heavy wooden cross-bars. Only a fee meters outside the customer could step as well into the external Onsen, which was also fairly warm (light rain refreshed us). Such we were able to relax by conversation (Japanese, Germans, Serbs, Americans built the colorful international mixture).
Refreshed we put on the Dogis and climbed the stony way uphill to the main building, where the large Dojo with 400-500 square meter of Tatami. All four sides were made of glass with a nice view to the overwhelming mountain area. The Tatami were used for the first time since decades, and as they were made of pressed straw, they were hard as concrete. Even kneeling down was quite uncomfortable. Therefore Shimizu Sensei only demonstrated simple techniques from a standing position, and that was a relief to the about 50 participants.
After practice we again dived into one of the Onsen bathes (at the lower level there was an own Onsen for the students, but this was relatively large as well). And then for the dinner! We gathered at large tables in a kneeling position and marveled at the set up delicacies. About 15 different dishes on plates and in small pots caught our hungry glances. There was plenty of rice from inexhaustible rice pots, and later soup and tea was served. As lots of beer and wine were running as well, the faces became red quickly.
The cultural highlight of this evening was a short speech by Watanabe Sensei and the following introduction of all foreigners. The foreigners raised, introduced themselves (translated by Henry de la Trobe into perfect Japanese), all applauded warmly, and then the next one was called. Only Peter stepped out of the line and talked Japanese…
How is the feeling sleeping with three or four other people in one room? Yes, it's a better feeling as when there are six other people in one room, as it was the case in other rooms. Unfortunately in our room there were two immediately-after-lying-down-permanent-snorers and one occasional snorer. Peter does still believe that he was the only one not snoring, but at the next morning everybody complained about the other snorers…
Despite the paper wall (at one side slept the Japanese, at the other the Germans) there was no chance of sleeping, because from outside came absolutely no noise, quite different to Tokyo or other Japanese cities. Next morning Eckhardt from Hamburg only laughed and pointed out that for many years earmuffs (Mimisen) were an important part of his standard traveler's bag. Next time I have some as well, and someone else will have to be responsible for the wake-up call…
(to be continued)
C & P