Room Hunting and Accommodation – Part 1
To convey some impressions to the potential Japan visitor and to provide some survival help for those looking for an accommodation in Japan we present in the following some photo documents on this issue. We do not lay claim to completeness.

On a four weeks average the daily accommodation (without breakfast) cost us about 33 € per person (double room), what is quite a little for one of the most expensive countries of the world. For the cheapest lodging, in Beppu, we only paid 2,000 ¥ (14 € per person), the most expensive one was 6,000 ¥ (40 €). These are no hotel charges. Without exception we stayed in cost-effective Japanese Ryokans (of course there are very expensive Ryokans as well).
Tokyo, the first
(Ryokan Fukudaya, 4-5-9 Aobadai, Meguro-ku, Tokyo 153-0042, Tel.: 03-34675833, Fax: 03-34675815, www.fukudaya.com)Other Japan travelers recommended the Ryokan Fukudaya; from there it takes about 10 minutes on foot to Shibuya station and about 30 minutes on foot to the Tendokan; Fukudaya offers 17 Japanese and Western stile single and double rooms.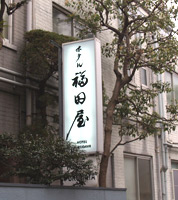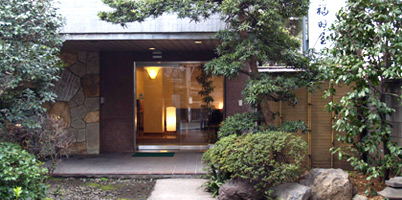 The first accommodation at Fukudaya was a Japanese double room. Two separate rooms with a balcony and bath room. As the room's bath was quite small there was the possibility to use the public hotel's bathroom at the first floor – if it was not occupied. We hardly watched television, because the television programs were even worse than in Germany (at least until midnight); a refrigerator was not necessary, as there were beverage vending machines and 24-hours supermarkets at every corner.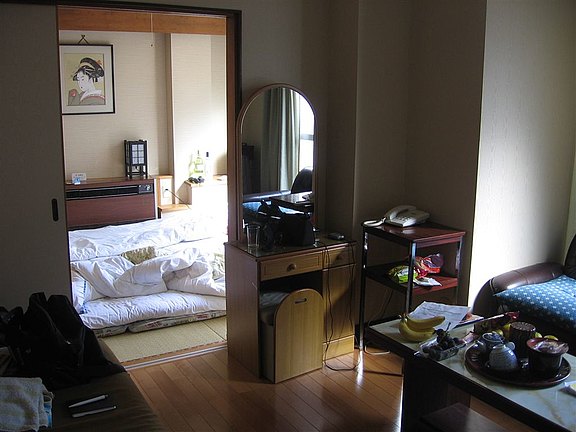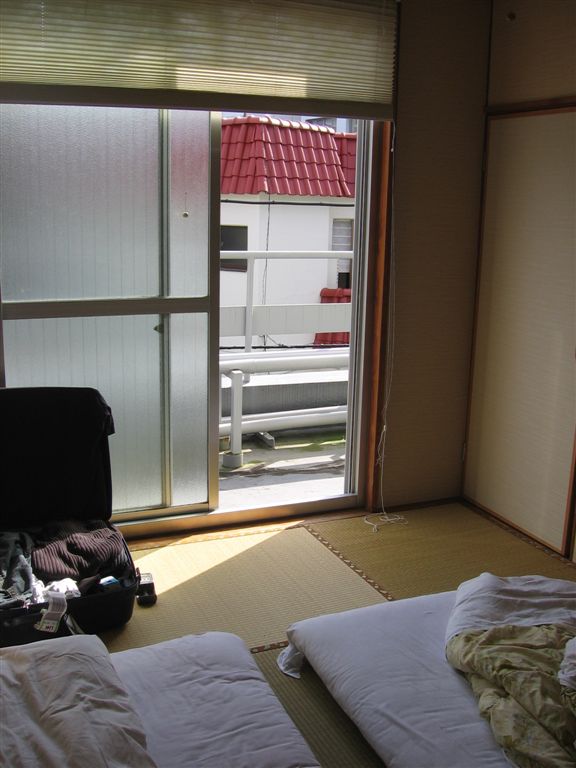 In the bathroom, a so-called bathroom unit, everything was arrange on smallest possible space, so we nearly were able to take a bath, to use the washbasin and the … at the same time.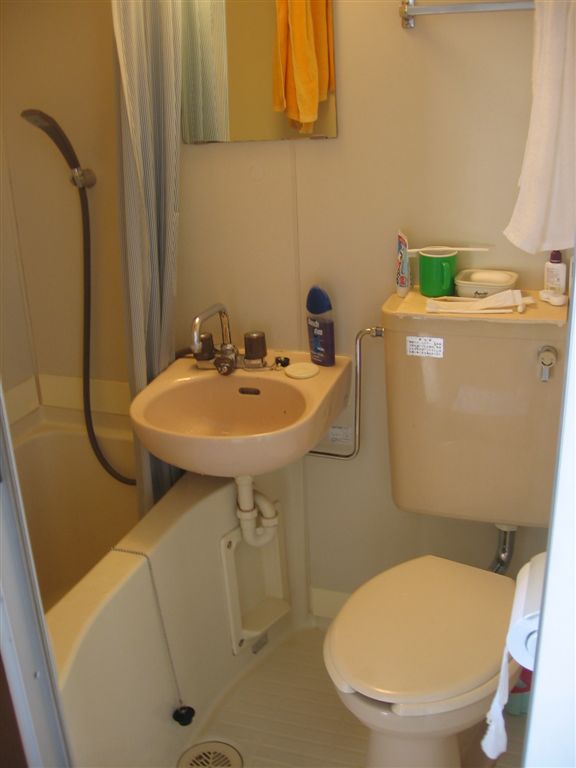 The location of the Ryokan is in a relative quiet area of Tokyo, but the noise from the nearby highway (Highway 246) could not be ignored with open windows. Additionally unfortunately very noisy road constructions were carried out in Tokyo between 6pm and 7am, because the traffic should not be disturbed.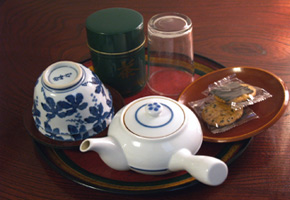 Kagoshima (Kyushu)
Total happiness, in Kagoshima we were welcomed in the Tourist Office with open arms, received a list of all nearby hotels and Ryukans, and started optimistically late in the evening – with luggage.There are normally no street names in Japan, and the house numbers are all mixed up. Although we had a map we had to ask for the way four to five times. Older ladies were not our favorites, because they retreated hastily with a "Sumimasen??? (Excuse me!) as soon as they became aware of the two unshaven strangers in the beginning darkness. But the other sources of information, too, confirmed only that Japanese do not like to say "No??? or "I do not know???, even if they absolutely have no idea. Therefore it took some time until we reached finally our destiny after repeated circling round (and unconscious passing by).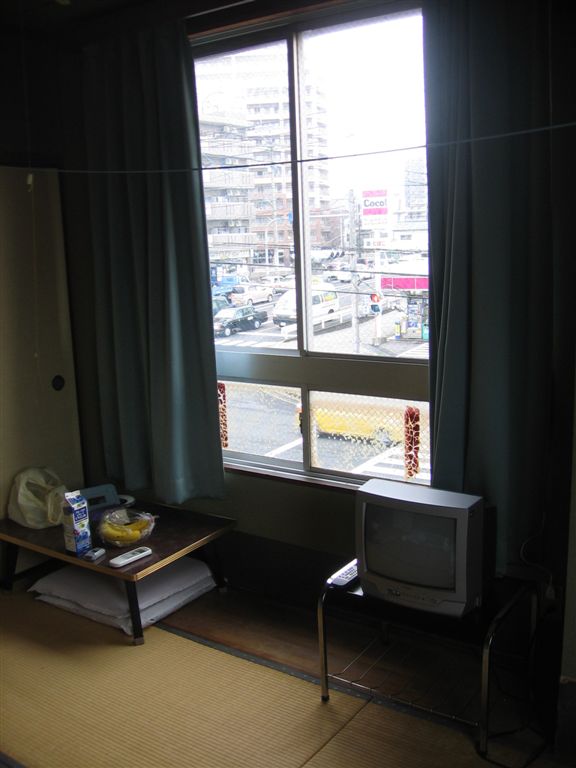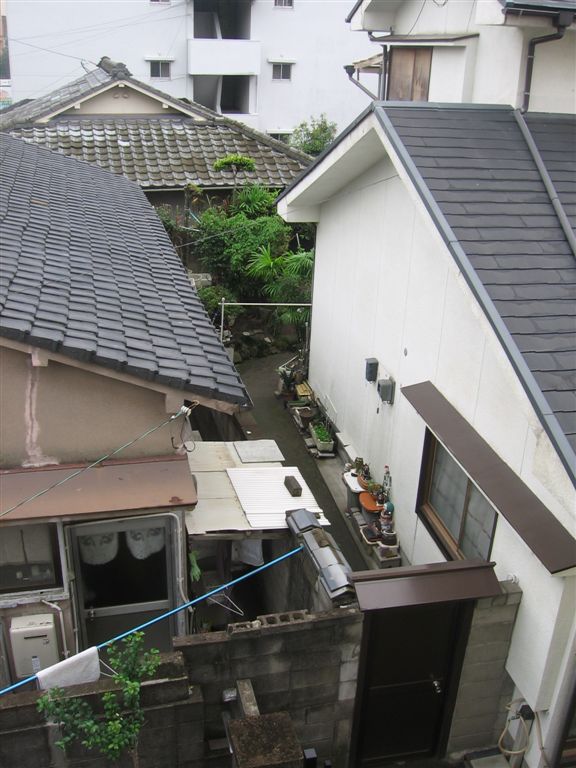 It is custom in every Japanese hotel or Ryokan to provide a wonderful comfortable Yukata (light Kimono) for the guests. The following photos show two guests in local clothes, which we could take by surprise.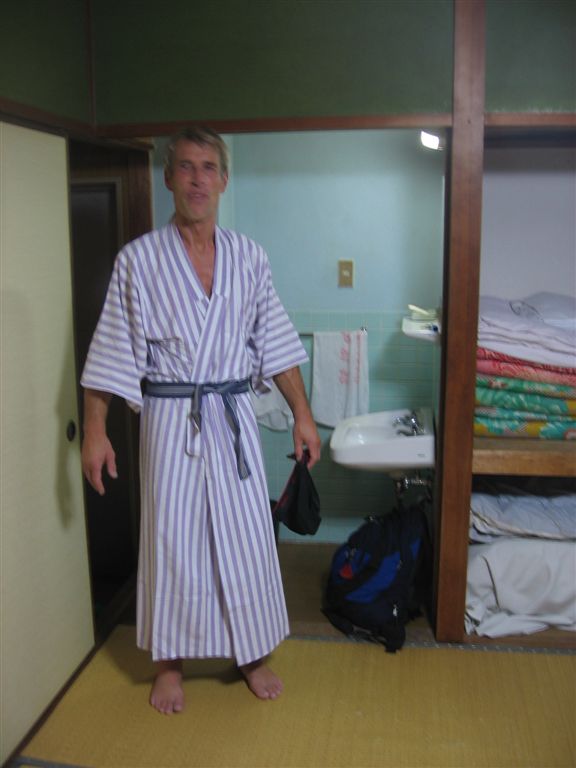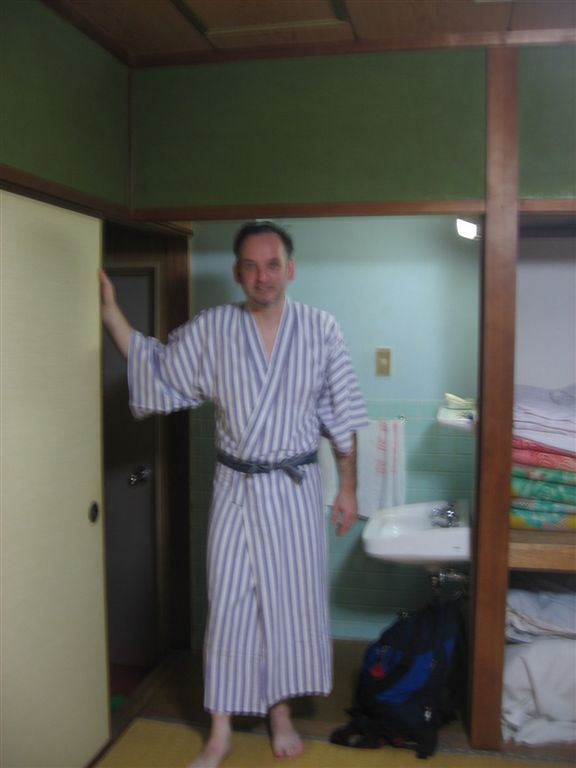 We always paid at the check in. We assume that this the case as well with Japanese guests …
Beppu (Kyushu)
It cannot run smoothly al the time. Because of our good experience with the Tourist Office in Kagoshima we were quite optimistic and started for Beppu at the north coast of Kyushu late in the evening – we knew already how it worked.Arrival late in the evening, no Tourist Office far and wide and heavy rainfall (because of the generally fine weather in October in Japan we didn't bring rain clothes with us).Lifesaver was a taxi driver, who showed us the way to a cheap accommodation, the Guest House. Dripping wet we dropped in a very cheap doss crowded with foreigners. Our room was small and uncomfortable without anything, no Yukata, no towels (low quality towels could be purchased for an exorbitant price at the reception), and one public shower for about 50 guests. Well, the shower in an only partly plastered room with millions of microbes was not really inviting.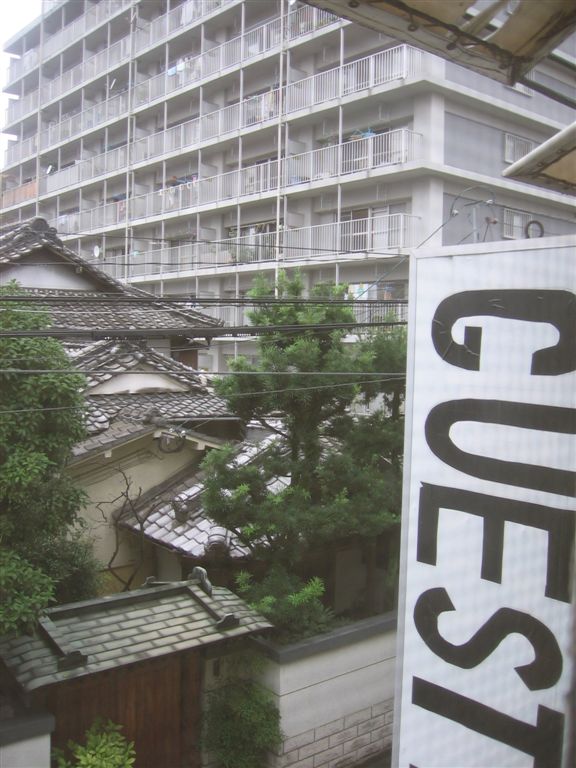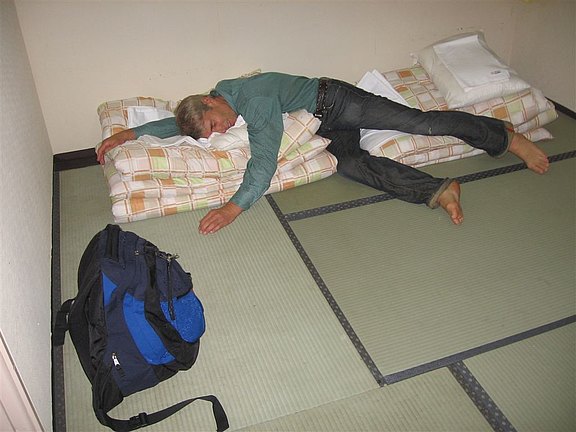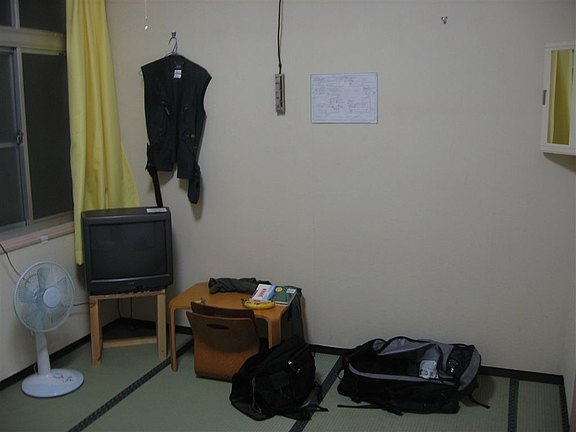 In the evening we rushed through the heavy rainfall to a nearby restaurant, which unfortunately was rather a pump room with shady guests. Our unusual request for a noodle soup was - quite Japanese - not rejected, but the preparation took about one hour. Probably the bar keeper had to purchase the ingredients first.
Early in the morning we escaped to the sea. Thereafter we looked for a castle (but we couldn't find it).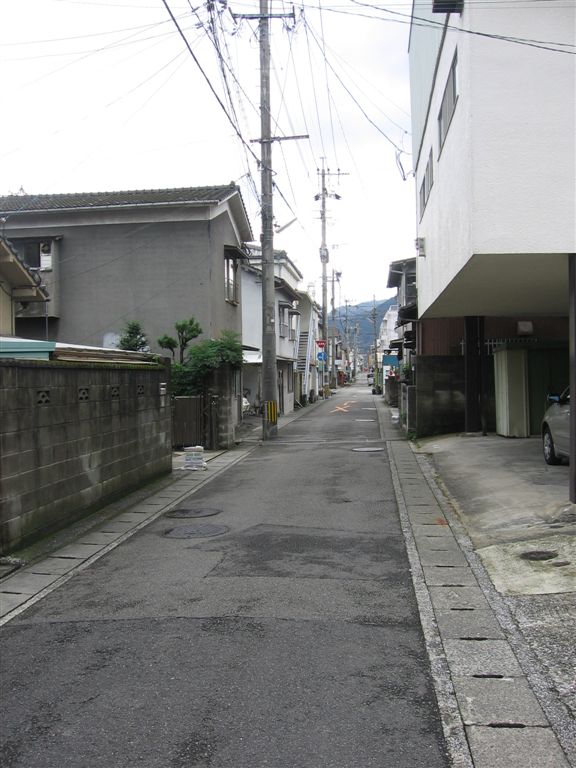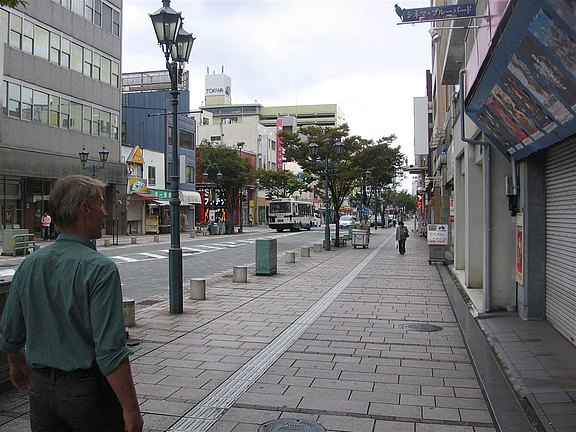 Streets in Beppu after public warning "Beware of Foreigners??? …

To be continued.

C & P