Room Hunting and Accommodation – Part 2
Okayama
In Okayama, back to the main island Honshu, we took some time for room hunting. The local Tourist Office provided us with a hotel list, and we checked step-by-step all on foot reachable quarter proposals. Starting with about ten after some time only one was left, all others were gone or given up or not inviting or still too far away.
We finally stayed in a Ryokan in a side road nearby to a gambling hall (Pachinko). It seems that in Japan there are no binding rules for a minimum distance between buildings, what results in the use of even the smallest construction gap, because of the high ground prices.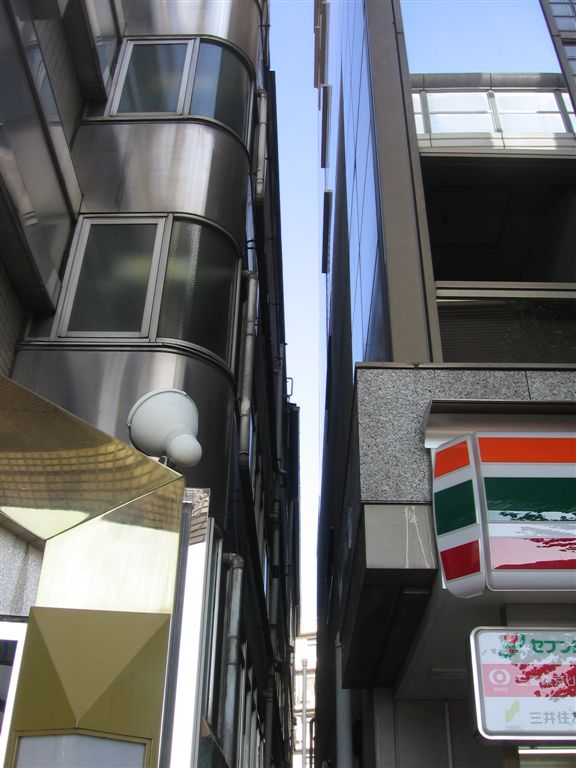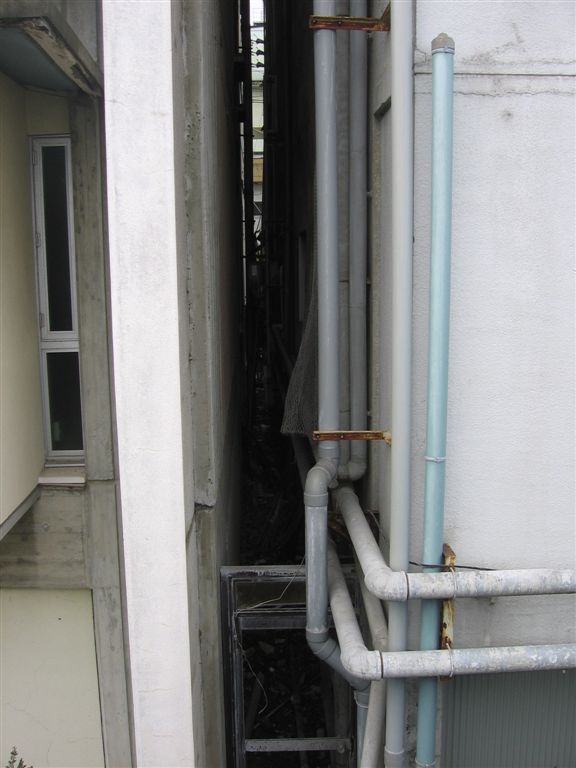 What has this to do with our quarters? Our two rooms had windows, but the neighboring building was so closely attached to our Ryokan that neither light nor any sound could get in. We spent a remarkable quiet night, but because of the cave atmosphere we quickly lost any feeling for day or night.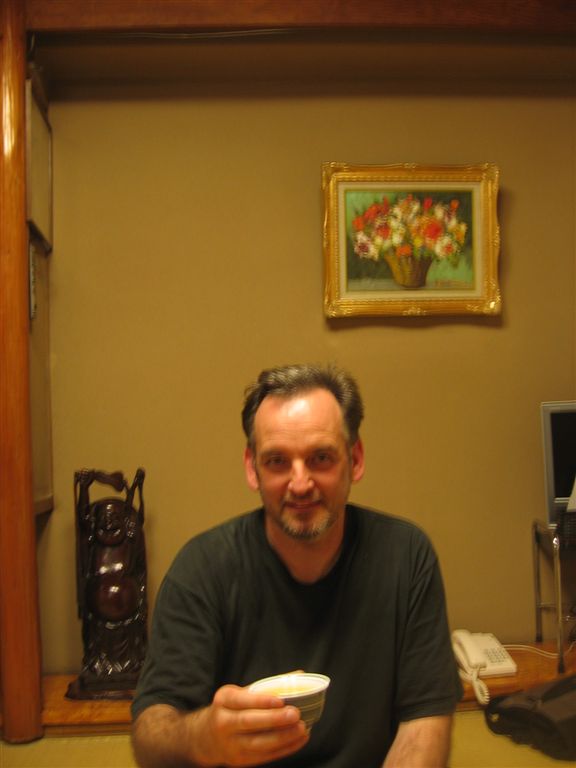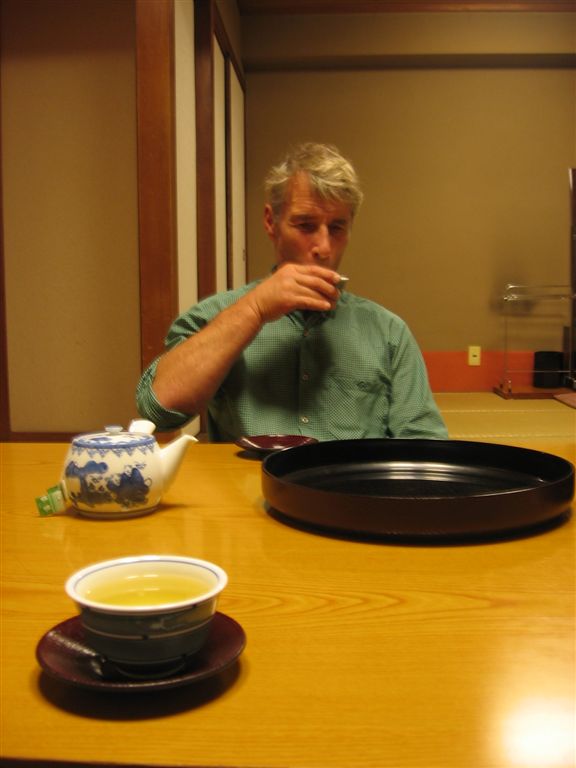 We easily got used to the luxury being always welcomed with tasty, hot green tea (which of course was free of charge).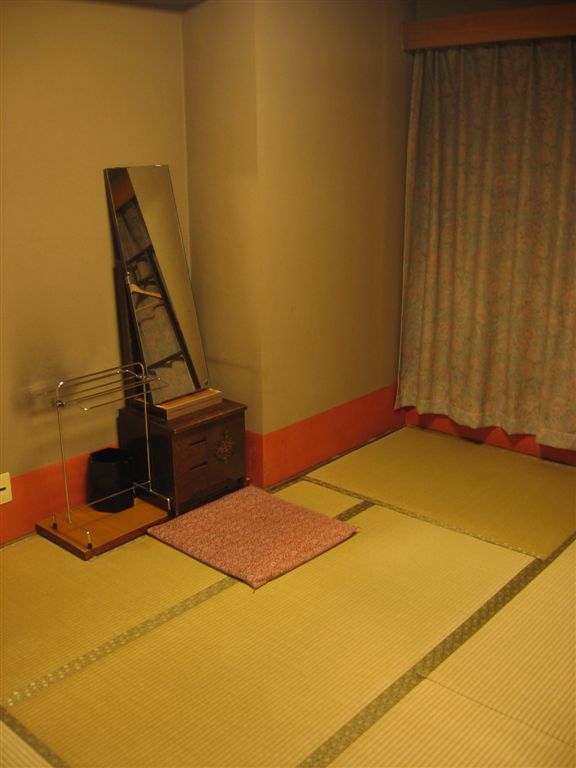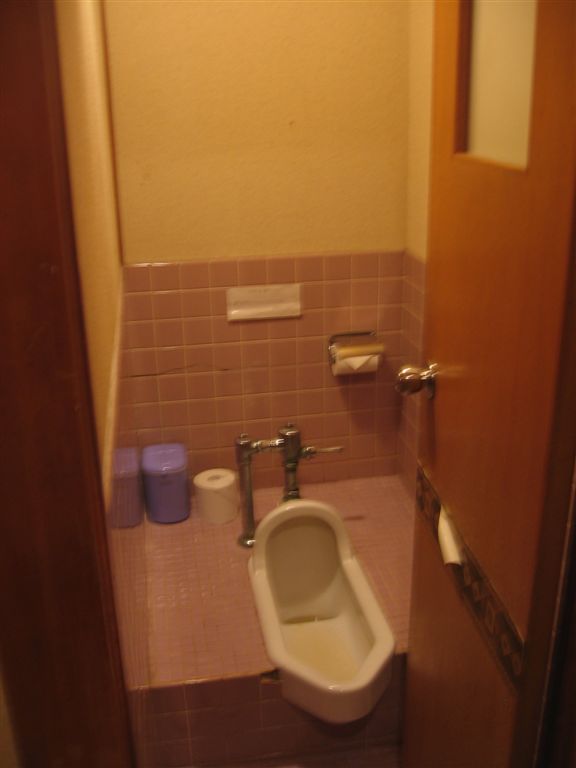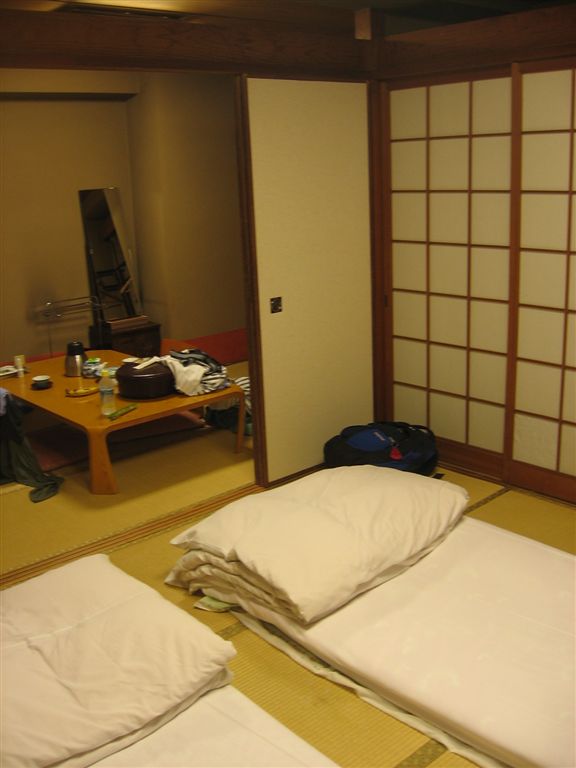 Against initial fears we heart absolutely nothing from the close-by Pachinko Hall – see above.
Kyoto
As usual our first destination in Kyoto was the Tourist Office. The Tourist Office was totally crowded due to various congresses and to the run of travelers to Kyoto (from inland and from abroad) as it is quite usual in Japan in October. After 1-2 hours we were asked to fill in a very detailed questionnaire, which was entered into a database; luckily they did not ask for a profile. The common hotel list comprised very expensive rooms, mostly the large hotels around the main station. After insisting we received the address of a Ryokan, which then was informed about our arrival by telephone (and probably received all our previously entered data).
With a map in one and the luggage in the other hand we started hoping for a short way to go. Well, after one hour we were near to our destination and had accepted already the direct proximity of a noisy high-speed railway, when a helpful angel in the shape of a granny appeared, who interrupted her shopping and finally guided us to our destination - after some more searching around.
The name of the new quarters was:
Ryokan Sanki, Tel/Fax (075) 351-6339, e-mail: sanki_inn@ybb.ne.jp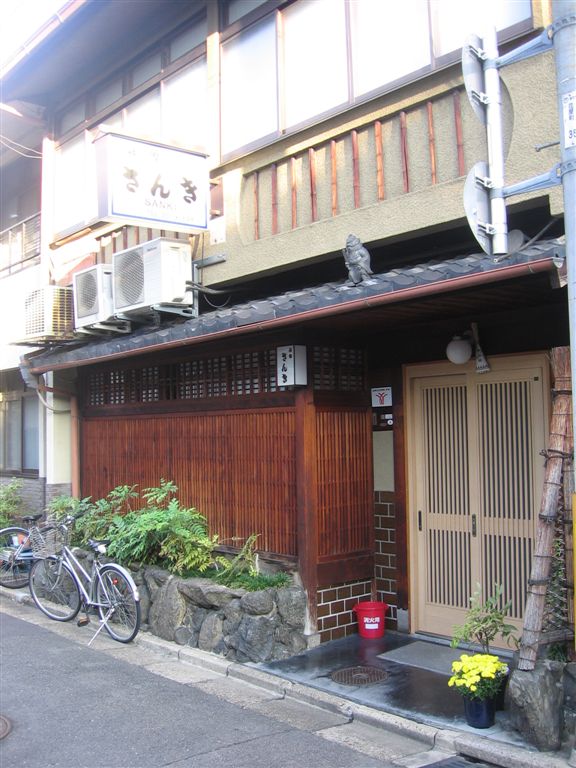 Luckily the Ryokan was not located near to a high-speed railway, but was hidden in a side road in an area undisturbed by any noise (does the entry really look like an hotel entry?).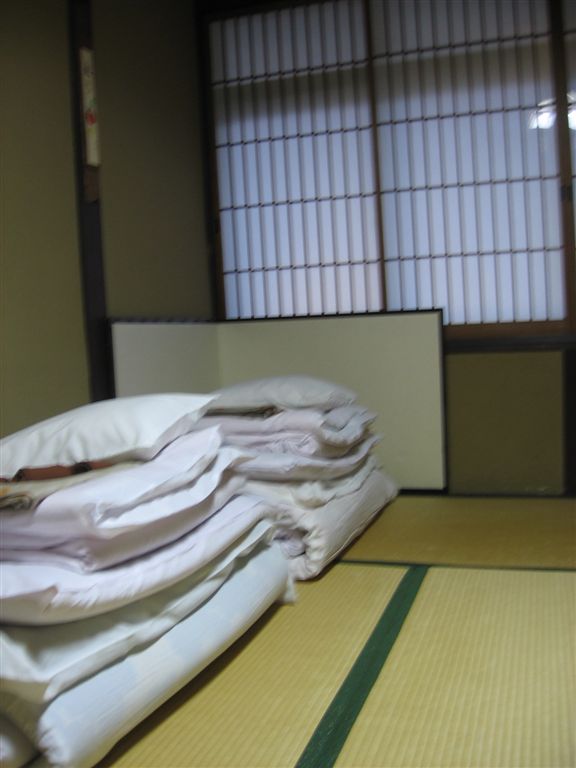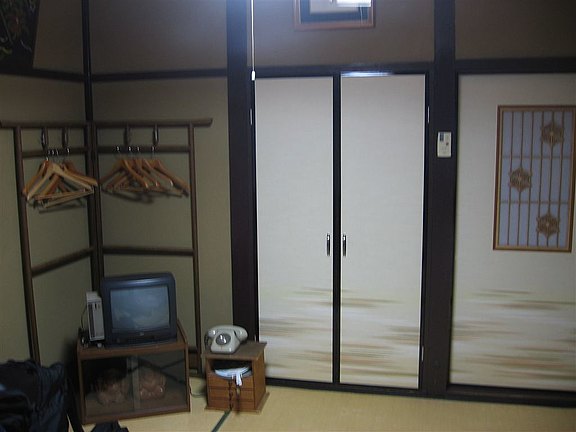 We were happy. Quietness, a homely atmosphere, a friendly landlady (who was enthusiastic because of our Japanese language abilities and who became more helpful every day), a large O-Furo at the first floor and a location convenient for traffic. A station was near by, and it was only one stop to Kyoto station.
Additionally, in about ten minutes distance on foot we found a large, cost-effective Sushi shop with rotation Sushi, which we visited several times during the next days and where we were welcomed even friendlier every day by the service ladies.
We stayed three days.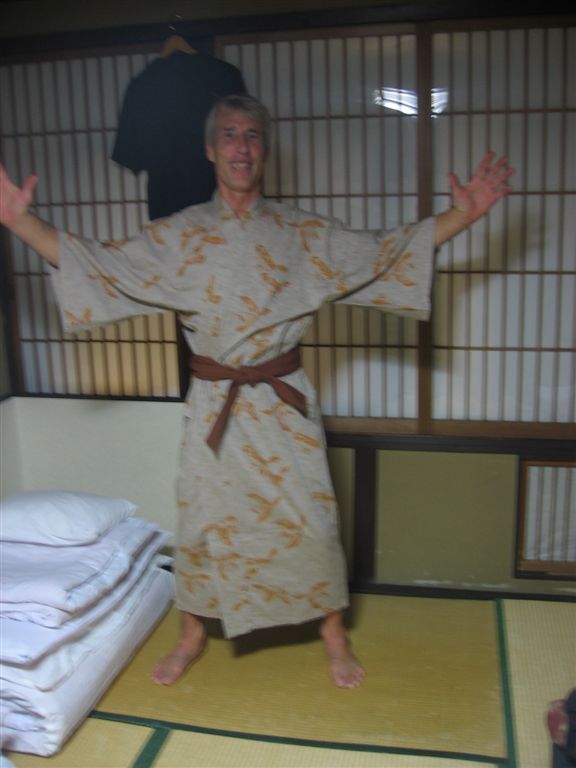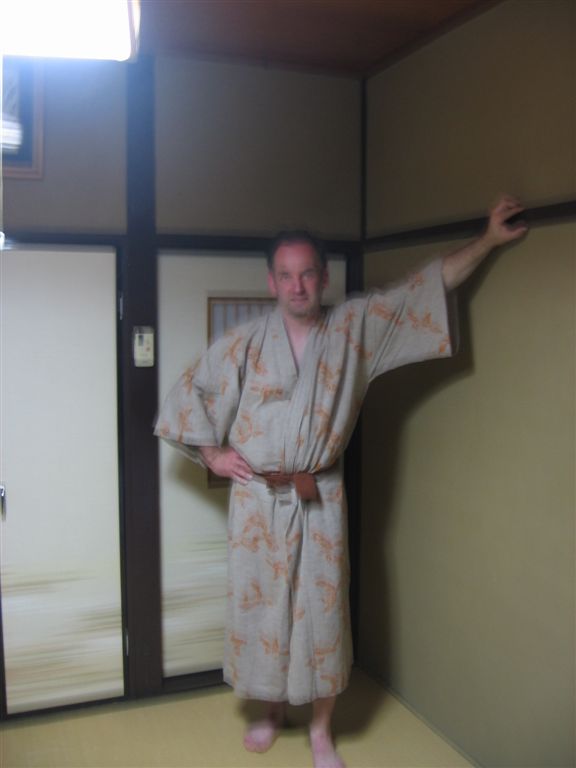 Tokyo, the second
The last three weeks we spent again in the Ryokan Fukudaya in Tokyo. Unfortunately this time we had to be satisfied with a Western style two-room apartment. C slept in a bower, which was only slightly larger than his bed. P's lair was on the living room couch, which unfortunately was slightly sloped, and at night only by clasping or by additional weights (refer to photo document below) sliding to the floor could be prevented.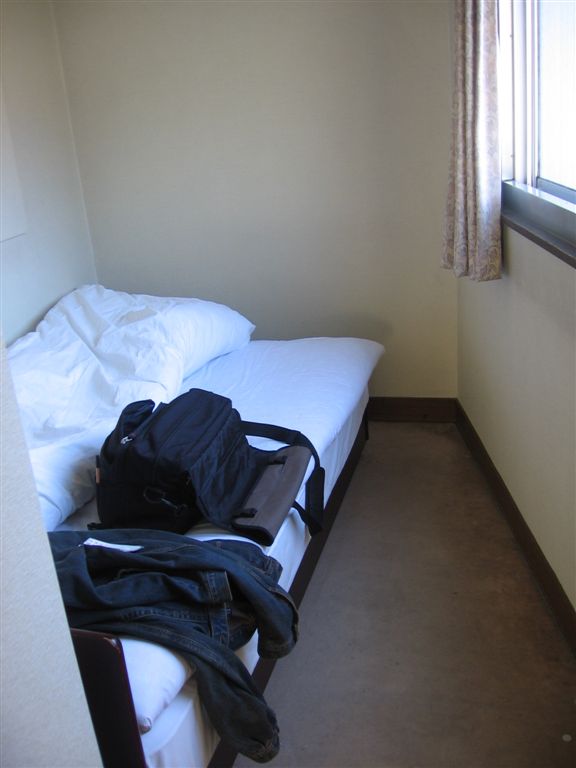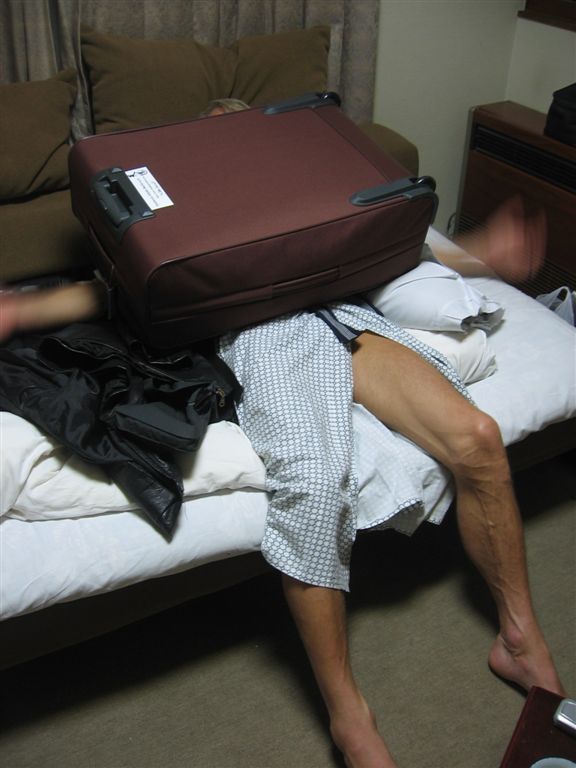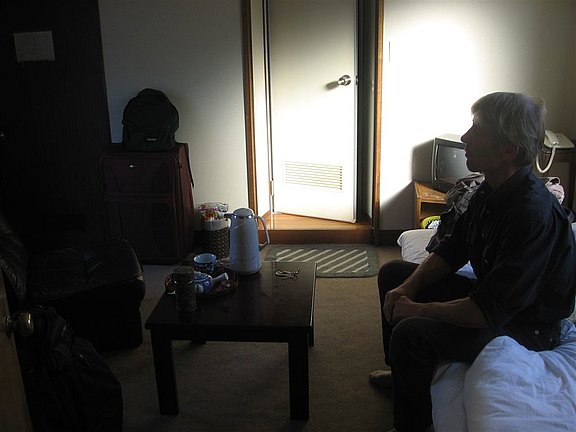 And once again by popular request of our reader community …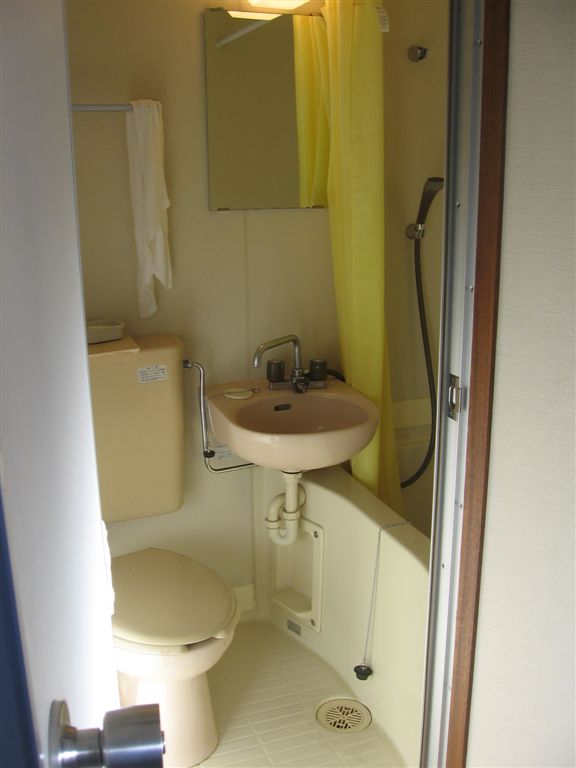 With regard to the room rate the accommodation could be recommended in total. We always had two rooms with a Japanese balcony (that means actually not usable), the bedclothes were changed daily and the rooms were cleaned up daily (no, no, not only in case of foreign customers!). Super markets and beverage vending machines were close by, coin laundry, Shibuya center and a comfortable morning café could be reached within 10 minutes on foot, and the walking distance to the Tendokan was about 25 minutes (alternatively there was a bus line or the subway).
Even the carefully checking other hotels, which we were informed via the Tourist Office in Shibuya and via the Internet, did not result in better quarters with regard to price, location and comfort.
C & P